Snag a Bag of Plums:
Chef Anfernee, we like to call him Fern, loves to think outside the box. He finds fun and unique ways to prepare food with seasonal ingredients.  Cruise around his website and check out other recipes.  If you have any questions, be sure to send him a message!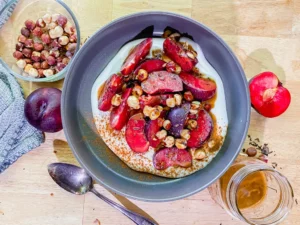 This plum salad is a pretty simple recipe. Boasting about 5 ingredients aside from the vinaigrette recipe. There aren't too many distractions on the plate here. Simple flavors and textures that contrast and compliment. Leaving the ingredients un-warped really showcases their natural flavors. The plums have a soft sweetness and firm texture while the hazelnuts are earthy and crunchy. The yogurt holds everything together, while the black tea balsamic vinaigrette has a pop of edginess. Simple and comes together in a whip.
We all have a bunch of loose leaf tea or tea bags around. Tossing them is them in vinaigrette works to use them up. Black tea's earthy tones can pair well with balsamic vinegar. Both are bold flavors, but they can come together harmoniously. Using the two in a vinaigrette prevents the tannins from becoming overwhelming. The oil helps tone them down along with the acidity. Tea in cooking isn't ordinary, but great practice. It may seem weird to begin with, but trust, it's great.
For this recipe, Fern used an Assam tea from Cup Of Tea, a local shop here in the Portland metro. They have a huge selection of tea and all the knowledge to find something you'll like. If you have the chance, give their tea a try.        RECIPE