2022 Charity of the Year – Oregon Wild
Welcome to 2022! I am so excited to introduce to you our new charity for the year! Just like we have done since we opened, we will feature a Tea of the Month and donate 15% of its sale to our chosen charity.
Each month we will focus on one of the many conservation programs that Oregon Wild is steadfastly championing and we hope you will be inspired to support the preservation of our beautiful state.
Three things to know about Oregon Wild:
Founded in 1974, Oregon Wild represents the fish and wildlife, ancient forests, and rich diversity of public lands and landscapes that make this state so special. Oregon Wild supporters help protect and restore our wildlands, wildlife, and waters as an enduring legacy for the future generations.
Across five decades, Oregon Wild has successfully fought to protect nearly two million acres of Wilderness, over 2,000 miles of Wild & Scenic Rivers, countless endangered wildlife such as gray wolves, vast stretches of old growth forests, and essential ecosystems. All of these are integral in the fight against Global Warming.
January's Tea of the Month sales will help fund the fight to preserve Mt. Hood National Forest. It has been 40 years since there has been an update to the management plan for Mt. Hood National Forest. Congressman Blumenauer and Senator Wyden have been working on a new plan for the last 10 years.
Tea of the Month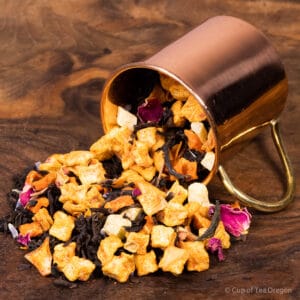 Mt. Hood Meadow is a fruity and dreamy delicacy: Peach deluxe! Think fruits a la mode. Who can resist sun ripened peaches, topped with sweet vanilla ice-cream and lavender whipped cream? Absolutely to die for!
New Artists 2022
Isn't the new poster incredible?!?!
I am thrilled to introduce the incredibly talented Aki Ruiz. Desert cryptid "Aki Ruiz" is a multi-disciplined animator, illustrator, and comic artist whose vibrant work tells stories of worlds in-between. He grew up in the eternal summertime of San Jose, California, and currently resides in rainy Portland, Oregon. He has a BFA degree in animation/illustration from San Jose State University, where he graduated magna cum laude.
---
Welcome Graham Schmidt, my other amazing artist. Nomadic house-hob "Graham Schmidt" has been a stylus-for-hire illustrator since 2003, working under the nom-de-plume "Grimmalkin". He was first sighted in a Circle K parking lot in California, asleep in a handbag. For the next 30 years, his adventures took him up the West Coast to Portland, Oregon, where he earned a BFA at the Pacific Northwest College of Art. He is currently in Wisconsin.