A Campfire Tale: 
I have a soft spot for this smokey black tea and its many tales about how it was created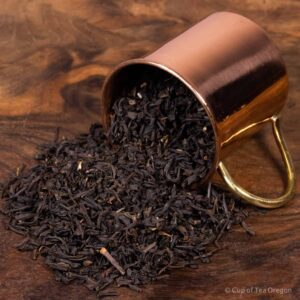 One such tale states that Lapsang was created by accident in 1646, when the tea farmers were met with a challenge. They needed to get their tea processed for the arrival of the Dutch, but the weather was not cooperating. They had to figure out how to dry the leaves, so they hastily grabbed pinewood to burn for heat, which in turn created a bit of smoke. When tea was dry, the scent of smoke left on the tea, and they thought they had ruined the tea leaves. Nevertheless, they bagged it up and when the Dutch arrived for their next shipment, the farmers tossed the tea on their ship and sent it on their way. 100 or so days later they spotted the Dutch returning  and to the farmers' surprise the Dutch had fallen in love with the tea and requested more. Who would've guessed that this wonderfully sweet and savory black tea was made by mistake?
I have discovered that the smoky scent and the malty sweetness of this tea makes it an ideal tea to use in cooking.  You  can use it in your soup stock, stews and sauces, or as a spice or seasoning. It is also perfect for anyone who misses their favorite campsites, so serve this tea up with a side of smores!