Don't cry, it's time for Chai!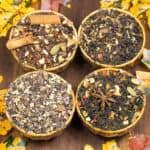 The world of chai is vast and spans centuries. With so many different ways to create chai tea, the rich history of chai, and even the amount of different chais we have in the shop, it can be difficult to know where to start. We hope this will be the perfect introduction into the chai world!
According to legend, chai was first developed when an Indian king asked for a "spiced healing beverage".  He asked for this to be created for use in Ayurvedic medicinal practices. Ayurveda is a medical system that is still used by 80% of the Indian and Nepalese population today and focuses on meditation, special diets, yoga, and more. The use of medicinal spices in Ayurveda makes sense when you consider the immense selection of spices that are native to South Asia. Cinnamon, for example, a common ingredient in chai teas, is native to India, making it a logical addition to chai "karha".
Karha is the combination of spices used to flavor chai teas. This combination can include a variety of spices.  A few examples of spices commonly used in chai include star anise, black and red pepper, cinnamon, vanilla, nutmeg, and clove.  Combine any of these with a strong black tea like Assam and you'll have yourself a nice cup of chai tea!
The meaning of the word "chai" is interesting, as well…The Hindi word "chai" actually directly translates to tea! The specific term to refer to what we know as "chai tea" is masala chai, which directly translates to mixed-spice tea. The masala chai we have in our shop is specifically a chai that features the fundamentals of what makes a chai. Because it only features the fundamentals of chai, the tea itself is very mellow compared to other chai combinations. Because of this it's the perfect tea to use as a base to create your own chai teas using our botanical selection!
As far as steeping your chai tea goes, it can vary depending on the type of tea used in the chai. Traditionally, you'll see black tea being used.  Black tea usually steeps at around 205 degrees for 3 minutes.  Sometimes you'll see green and oolong tea used with chais.  It's actually more common to see green tea used in chai in western areas of India!  Our tea Parker's Chai is a chai that uses oolong and we recommend steeping it at 195 degrees for 3 minutes.
We also have a large variety of uniquely different chais, as well!  Stumptown Chai, for example, is one of our most unique chais.  It's a white tea, which gives it a far more refreshing flavor than the more traditional black teas.  It contains a variety of fruits such as pineapple, apple, and coconut, which give a sweet and silky flavor profile.  Aztec Chai is another outside the box chai that has the sweet cocoa and cinnamon flavor you'd expect from a chai but with a rooibos base, instead of the classic black tea.  That means that this tea has no caffeine, making it a great late night treat.
As for more traditional chais, we can easily recommend Parker's Chai.  It's the perfect blend of rich chocolate and sweet spice. We also have Diwali Chai, that is centered around a variety of spices that you will find in a traditional chai flavors, and Tea-Juana Chai, which features all the spices you would normally find in a chai, just with an extra cocoa kick.
We hope this helps give you an introduction to chai! If you're thirsty for more, check out our website to explore our chai selection! Or better yet, come in and try our Chai Flight, where you can try every chai we have, pick a favorite, and take some home with you!