ANNIVERSARY TIME:
This time of year has an extra special meaning for Cup of Tea. It marks the anniversary of the day the teahouse opened, the 26th of November. 🎂 This year we are celebrating our 4th year!  The number 4 represents the continued building of the foundation for a healthy future. I truly believe that the foundation of Cup of Tea has remained strong because of YOU! Thank you for your loyalty and your continuous championing for Cup of Tea. In honor of the number 4, we will be running 4 deals from November 25 to December 25…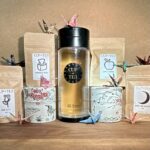 The FIRST special deal for our Anniversary is a free Cup of Tea Travel Steeper. Our to-go steeper is perfect for anyone on the go.  This steeper is double-walled, and has hi-temp inner glass, which means there's no staining! The lid has a removable strainer, perfect for loose-leaf tea, and it's incredibly easy to use! Simply fill the cup with hot water, add the loose tea to the strainer lid, secure it tightly, and turn it upside down! Once it's been steeped long enough, turn your cup back over, and voila! A perfect cup of tea!  Get your very own Cup of Tea travel steeper with every $50 purchases. PLUS, you will be entered into a drawing to win an Oregon Wild tote bag filled tea, honey, chocolates, stickers AND a private tea tasting for you and 9 other people!                                                                                                                                                                                                                                                                                                                        This deal is instore and online 11/25-11/30 (add the Libre to your card and $50 worth of loose-leaf tea, then use coupon code "librefree")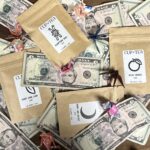 Anniversary Deal #2: Lets begin December with a $5 coupon! 💵  For every $30 you spend, I will give you $5 off your purchase…Hey, that is like getting a free cup of tea or a free ounce of tea ☕️ Who doesn't want somthing tea related free ?  A little incentive to get you moving and get that list competed. 📝 Tony Robbins once said, "What simple action could you take today to produce momentum toward success in your life?" Okay, this coupon might not change your life, but it could be the motivation you need to not procrastic this holiday season. 
This deal is instore and online 💻 12/1-12/11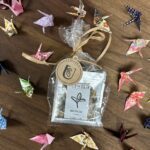 Anniversary deal #3: FREE Sampler bag with purchase! These little sampler bags house 4 different teas and one sweet paper crane that was created to add a little hope and peace to your life. This could be the perfect little add on for a teacher's gift, perhaps the perfect nug for your buddy who is drinking to much coffee and needs to join us in the tea world,  what about a stocking stuffer or even a hostess gift. Spend $50 and I will give you this adorable little bag!                                                                                                                                                          This deal is instore or online Deal is on from 12/12-12/18  
Last Anniversary deal for 2022!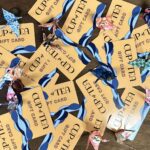 I want to give you a $10 gift card when you purchase $50 worth of gift cards…. mix and match a couple of $5 cards for the stockings, a couple of $15 cards for those fabulous teachers, $10 card for your nail tech… this is completely up to you. 🎁 Just don't give up at the last minute and get gift cards from You Know Who… support your local small businesses who have been trying to survive a pandemic and this jaw dropping inflation!!!
 Deal is from 12/18-12/24 get it in store or online 
Thank you all,
Susie