Skip the grocery store and artificial dyes and come by Cup of Tea for natural alternatives. Using tea to dye your Easter eggs gives a more earthy hue, saves your hands and clothes from getting stained by any dyes, and you can still eat the eggs afterward!
What You'll Need
Vinegar
Water
Hard-boiled eggs
Loose leaf tea – we recommend:

Try out Current Affair for red
Tropical Sky for yellow
Butterfly Pea Flowers for blue
Butterfly Pea Flowers with John Lemon
Rooibos for orange
Matcha for green

Jar for each tea flavor
How to Dye Eggs With Tea
Add 3 tsp loose-leaf tea to a jar.
Fill the jar with hot water.
Add 3 tbsp of vinegar.
Place a hard-boiled egg into the tea mixture.
Let it sit overnight in the refrigerator.
Remove eggs and pat dry.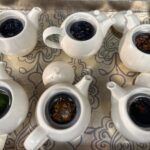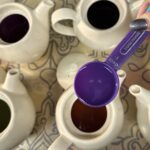 Choose tea over dyes this year, and tag us in your efforts @cupofteaoregon