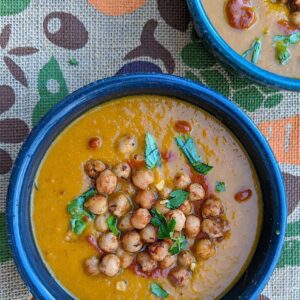 Moroccan Carrot Soup
Once you have all your ingredients gathered, this delicious Moroccan inspired soup comes together quickly, To achieve a proper spice profile, you need several key components to make it "Moroccan inspired." One of the most popular spice blends for Moroccan dishes is cumin, coriander, cinnamon and ginger. These warming spices are commonly incorporated into recipes with the addition of citrus such as lemon, tangerine or orange. The spice and citrus combination are used in sauces, soups, marinades and for baking and seasoning rice and couscous. Adding the brightly flavored spiced orange tea is brilliant and plays perfectly with the earthy tones of the cinnamon, cumin and coriander. The soup is so deeply flavorful and good on its' own, but the garnishment of sheet pan spiced garbanzos takes it up a notch and lends for nice bite. We love this soup as a "soup stretcher"too! It's a perfect saucy ingredient for pouring over cous cous, roasted sweet potatoes or cauliflower, or tossing with pasta. And it just gets better the next day. Hope you give this one a try!
Ingredients
2

tbs

extra virgin olive oil

1

cup

1 onion, chopped

2

shallots, diced

4

cloves fresh garlic, minced

1 1/2

tbs

ginger, peeled and grated

2

lbs

organic orange carrots, diced

3

cups

organic vegetable stock

1

cup

steeped spiced orange tea, strained (2 tsp loose-leaf tea, steeped for 3 minutes)

13.5

oz

full-fat organic coconut milk

1

tsp

orange zest

1/2

tsp

lemon zest

1/2

tsp

cinnamon

1

tsp

fresh turmeric, grated (or dry)

1

tsp

toasted cumin, plus more for garbanzos

1

tsp

toasted coriander

1

tsp

Kosher salt, plus score for garbanzos

2

tbs

honey or organic sugar, plus more for garbanzos

1/4

cup

organic parsley (or cilantro), chopped

13.5

oz

can organic garbanzos, drained

2

tbs

extra virgin olive oil

1

tsp

honey or organic sugar

1

tbs

smoked paprika

1

tsp

toasted cumin

1/2

tsp

cinnamon

1/2

tsp

Kosher salt

1/3

cup

organic cilantro or mint or Italian parsley - or combination of all, chopped

Sriracha or other hot sauce (optional)
Instructions
INSTRUCTIONS: In a large stock pot on medium high heat, add olive oil, onion and shallot. Cook for

4-5 minutes until items are softened. Add in garlic, ginger and carrots and saute' for 3-4 minutes. Add

vegetable stock and bring to a boil. Cover and reduce heat to medium low and cook until carrots are

softened. About 12 minutes. Add in cup of steeped spiced orange tea and coconut milk. Using an

immersion blender, puree ingredients until smooth. Cover soup and keep on low heat until ready to

serve.

GARBANZOS: While soup is warming. Heat oven to 450. On a parchment lined sheet pan place

drained garbanzos. Drizzle with olive oil and sprinkle with honey, paprika, cumin, cinnamon and salt.

Toss to completely coat garbanzos with spices and oil. Place in oven for 15 minutes. Garbanzos should

be caramelized when done and have a bit of a bite to them.

TO SERVE: Ladle equal amounts of blended soup into bowls. Garnish with garbanzos beans and

chopped herbs and hot sauce, if so desired. We enjoyed this soup with a chunky salad made of

cucumber, tomato, red onion and mint with crumbled goat cheese and a drizzle of balsamic vinegar,

good olive oil and cracked black pepper.
Notes
Moroccan Carrot Soup 
Local chef, Josie from Pepper & Salt Kitchen, created a seasonal soup with our Spicy Orange black tea. If this recipe has you wanting more,  you can bypass the cooking and order premade soups directly  from Josie and pick up at Cup of Tea.