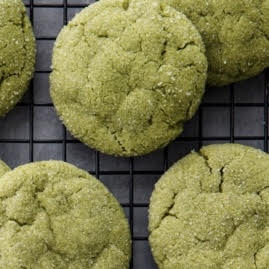 Matcha Tea Cookies
8 ingredients cookie recipe! This cookie turns out with a lovely crunch on the outside and a chewy inside. Try adding a little white chocolate to make it a little more fancy, but we all know matcha is pretty dang fancy all my itself.
Ingredients
2 3/4

cups

all-purpose flour

1

tsp

baking soda

1/2

tsp

baking powder

1

cup

butter (softened)

1 1/2

cup

white sugar

1

tsp

vanilla extra

2 1/2

tsp

matcha green tea powder
Instructions
Preheat oven 375 degrees. In a small bowl, stir together flour, matcha powder, baking soda, and baking powder. Set aside.

In a large bowl, cream together the butter and sugar until smooth. Beat in egg and vanilla. Gradually blend in the dry ingredients. Roll dough into balls about one inch in diameter and flatten slightly in create round discs, and place onto ungreased cookie sheets.

Bake 8 to 10 minutes in the preheated oven or until golden. Let stand on cookie sheet two minutes before removing to. cool on wire rack. Sprinkle with a bit a sugar if you desire
Notes
recipe adapted from All Recipes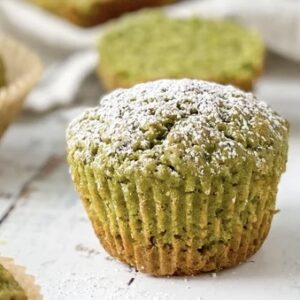 Matcha Muffins
Matcha is a very user friendly ingredient, baking with it is easy and it adds such a nice earthiness that pairs perfectly with a cup of tea. You can also play with all kinds of different tea flavors to replace Lemon Tart.
Ingredients
1 3/4

cups

all-purpose flour

1

tbsp

baking soda

1/4

tsp

salt

1 1/2

tbsp

matcha

3/4

cup

granulated sugar

3/4

cup

milk ( I use oat milk)

2

tsp

vanilla extract

1/4

cup

coconut oil, melted

1

egg

room temperature

3

tbsp

Lemon Tart tea or fresh lemon juice
Instructions
Preheat the oven to 400 degrees. Line a muffin tin with paper liners.

Steep Lemon Tart in 1/4 cup hot water.

In a large mixing bowl, whisk together flour, baking powder, salt, matcha, and sugar.

In another bowl, combined the milk, vanilla, coconut oil, egg, and Lemon Tart tea.

Add the wet ingredients to the dry ingredients until well combined.

Distribute the batter evenly among the paper liners until each one is 3/4 full. Bake for 15-17 minutes, or until a toothpick inserted comes out clean.

Let muffins cool in pan for 5 minutes before transferring to wire rack to cool.
Notes
This recipe was adopted from a Hayley MacLean at the Tasting Table