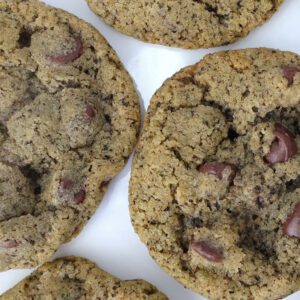 Roasty-Toasty Chocolate Chip Cookies
Warning- make your cookie dough the day before you want to bake your cookies! The dough needs to chill over night in refrigerator  
Ingredients
1 1/3

cup

All purpose flour

1/2

tsp

Baking powder

1/2

tsp

Baking soda

1/8

tsp

Salt

2

tbsp

Powdered Hojicha

(ground your tea any way you want, if it isn't perfectly powdered, that's ok)

1/4

cup

Sugar

3/4

cup

Brown sugar

3/8

cup

Sunflower oil

1/4

cup

Milk (non-dairy works)

1

tsp

Vanilla

1/2

cup

Chocolate chips
Instructions
Blend together Flour, baking soda, baking powder, and salt in a medium bowl. Set aside.

Combine hojicha, granulated sugar, and brown sugar in a large bowl. Add oil, stir... add milk and vanilla. Mix well.

Sift in the flour mixture, and stir until just combined. Fold in chocolate.

Cover and chill the dough in the fridge overnight.

When ready to bake, preheat the oven to. 375 degrees. Line cookie sheets with parchment paper.

Scoop or roll. 12 balls of cookie dough and place on the prepared baking sheets with parchment paper. Leave about 2 inches between the cookies.

Chill each batch of cookie dough for 10 minutes before baking.

Bake for 10 minutes until the edges begin to set and the middle is slightly underbaked. Let the cookies cool on the baking sheet for 10 minutes.
Notes
This recipe is from the Hojicha company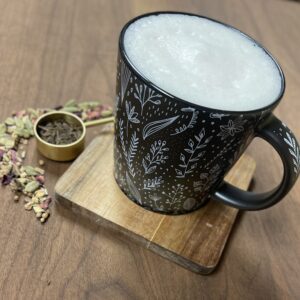 Hojicha Latte
The very first thing I do when I head into the kitchen to do some cooking is to make myself something delicious to drink. This is one of my favorites, a hojicha blend that pairs perfectly with a Hojicha chocolate chip cookie.
Ingredients
2

tsp

Hojicha

2

tsp

Shavasana